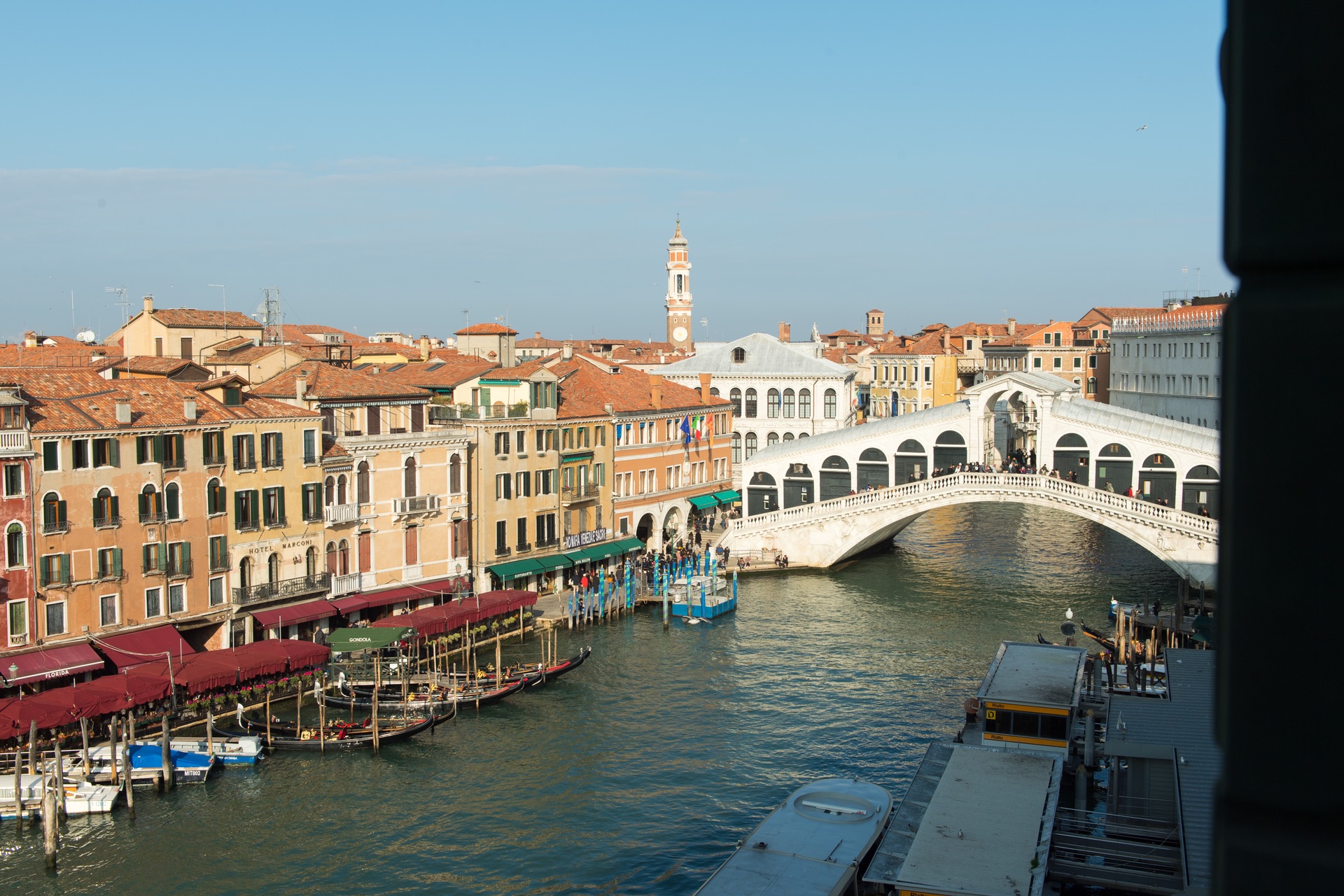 Palazzo Bembo Exclusive Accommodation stands close to the public water bus stop and of the shuttle boat for the Marco Polo airport, and is just in front of the taxi pier.
Was builted at the end of the 14th century from the noble family Bembo in Riva del Carbon, where at the time of the Serenissima Republic the coal was unload.
Just a few steps from Palazzo Bembo, you will find Rialto, the heart of Venice, enlivened by the famous fish market, old shops and market stalls; an extraordinary place, rich with pubsand restaurants where the evening starts with the traditional Venetian cocktail, the spritz.
In addition to being face to face with the Rialto Bridge and its infamous market, you're just a few steps away from Ca' Farsetti, the twelfth century Venetian-Byzantine palazzo now home to the town hall. You're close to the Goldoni theater where a rich season of shows by the theater's Venetian playwright namesake, William Shakespeare and Eduardo de Filippo are on the program.
Palazzo Bembo is in Riva del Carbon at number 4793, on the Grand Canal in front of the Rialto line 1 and Alilaguna Orange Line and near private water taxi station. The Rialto Stopof public boat line 2 is just a few feet away. Line 1 and 2 stop in front of the Santa Lucia train station and Piazzale Roma car terminal.
Alilaguna Orange line is the public boat service that go directly to Venice Marco Polo Airport.
St. Mark's Square is just 5-minutes away by foot. Walking there you can enjoy other splendid side trips to places like the Mercerie, crowded route full of shops that joins Rialto with St. Mark's Square. Here you'll find the best of the best, from the fantastic boutique windows to the most beautiful handcrafted Murano glass and the most spectacular architecture of the Doge Palace and impressive bell tower.
HOW YOU CAN REACH PALAZZO BEMBO
Our propriety is located at the Third Floor of the historical Palazzo Bembo, Sixteenth Century residence of noble Bembo Family, the address is San Marco 4793 in Venice.
When you arrive in front of the building, please go on the Third Floor, where you can find the Reception and the entire propriety (there is an elevator after the first few steps, inside the building).
Download the indication about how you can reach Palazzo Bembo – Exclusive Accommodation
By plane
From the Airport
Directly by private water taxi to the Hotel (the cost is about Euros 120,00 for 2-4 people with lugguage, and it takes you 25-30 minutes circa)
With Alilaguna Orange Line shuttle boat to "Rialto" stop (The cost is Euros 15,00 per person and it takes you 01 hour)
By public bus line 5 or bus ATVO to Piazzale Roma
By Train
From the Train Station
Directly by private water taxi to the Hotel (the cost is Euros 65,00 for 2-4 people with luggage, and it takes you 15 minutes)
By public water bus nr. 1 to "Rialto" stop (euro 7,50 per person)
From Train Station is possible to reach our Palazzo by walk, following indications to Ponte di Rialto and walking on Strada Nova until Rialto Bridge
By Car
From Piazzale Roma
Directly by private water taxi to the Hotel (the cost is Euros 65,00 for 2-4 people with luggage, and it takes you 15 minutes circa)
By public water bus nr. 1 to "Rialto" stop (euro 7,50 per person)
From Piazzale Roma is possible to reach our Palazzo by walk, following indications to Ponte di Rialto and walking on Strada Nova until Rialto Bridge
By Car
From Tronchetto Island
Directly by private water taxi to the Hotel (the cost is Euros 80,00 for 2-4 people with luggage, and it takes you 15-20 minutes)
By public water bus nr. 2 to "Rialto" stop (euro 7,50 per person)